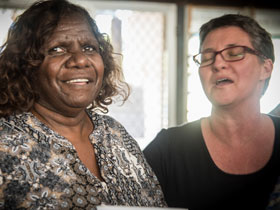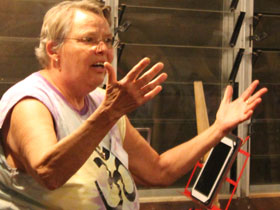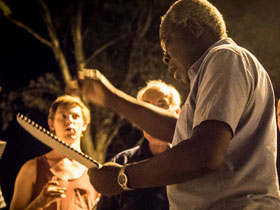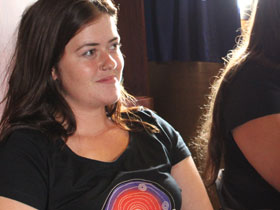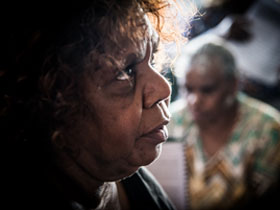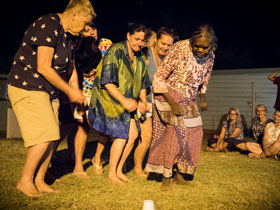 Main photo: Sharing culture and song. Photo taken at Big Sing in the Desert 2018. Photo by Amy Jean Harding. Small photos taken by Liz Phillips and Prue Adams.
Big Sing in the Desert
To allow time for planning and fundraising Big Sing in the Desert will not take place in 2024. 
Future dates to be advised. Watch this space!
To be notified about Big Sing Community activities events join the Mailing List and follow Big Sing Community on Facebook and Instagram.
About Big Sing in the Desert 
A unique four-day singing camp in the heart of Australia, Big Sing in the Desert is much loved by all who attend, providing an opportunity for musical and cultural sharing through song, dance, food, art, conversation and community.
Singers attend from every State in Australia, including up to 40 singers from Central Desert Aboriginal communities. Beginners and experienced singers are all welcome.
Your tutors, Rachel Hore and Morris Stuart, are passionate about valuing and preserving the unique sound and style of Central Desert choral singing. The Workshop encourages leaders from Central Desert choirs who may wish to share songs, culture and language.
For notifications about Big Sing in the Desert and other Big Sing Community events, join the Mailing List and follow Big Sing Community on Facebook and Instagram.
Event program
We learn beautiful songs in three-part or four-part harmony led by Rachel and Morris, as well as hymns and songs in Aboriginal languages helped by members of local Aboriginal choirs.
Big Sing in the Desert begins from 4pm, Thursday and finishes at 3pm, Sunday.
We transport you to Ross River from Alice Springs Airport or from your Alice Springs hotel at various times from midday onwards on Thursday. We transport you back to Alice Springs after Big Sing finishes on Sunday.
Venue
Our home for the four days is Ross River Resort, located in the East MacDonnell Ranges, one hour's drive from Alice Springs. There will be time for exploring the beautiful red gorges nearby, joining weaving or art workshops and for informal singing and a concert.
Singing sessions and meals are all held in the large Function Centre in the campground.
Accommodation
There are two types of accommodation to choose from.
Cabins:
Cabin accommodation is basic but comfortable, with an outback feel.
Twin-share cabins (sleep 2-3 people) (one double bed, or two singles, or one double plus one single)
Multi-share cabins (sleep up to 5 people) (limited number available) (one double bed, one single bed and one bunkbed)
No single cabins available.
Cabins include air conditioning, small fridge and ensuite bathroom. 
Singers staying in cabins need to be prepared to walk back and forth to the Function Centre each day. It's a lovely 10-minute walk. If you have limited mobility, we can provide a lift to and fro. Let us know your needs when you book.
Camping:
The campground is near the Function Centre where we will be singing and eating meals.
BYO camping gear, camper van or caravan.
Powered sites available.
Shared amenities block.
Bunkhouse:
Bunkhouse accommodation is reserved for our sponsored singers who need to be accommodated close to the Function Centre for our singing sessions.
Meals 
Meals are served buffet style – with a mix of hot and cold options. Vegetarian, gluten-free and dairy-free diets can be catered for. Let us know your needs when you book. The self-catering option is recommended only for self-sufficient campers. Note – there is no access to fridges at Ross River Resort. 
If you are unsure, please contact Jodie at jodie@rachelhore.com or 0415 885 335.
Flights and transport to Ross River
You will need to book your own flights to and from Alice Springs as early as possible. 
Arriving: You may like to arrive a day or so early to explore the region. We provide transport from either Alice Springs Airport or your Alice Springs hotel to Ross River Resort on Thursday.
Departing: Big Sing finishes at 3pm, Sunday and we recommend that your return flights be booked for Monday or later. We provide transport from Ross River Resort to your Alice Springs hotel or to the airport (if needed) on Sunday 23 April.
The cost of transport to and from Ross River is $TBA each way.
Travel insurance
We strongly recommend that you take out travel insurance coverage.
COVID safety
We are committed to providing a wonderful programme while staying COVID safe, and protecting our most vulnerable singers. Our COVID Safety Plan will be sent to you before you arrive at Big Sing in the Desert. 
About Morris Stuart
Founder and musical director of the Alice Springs choir "Asante Sana", Morris also directs the Central Australian Aboriginal Women's Choir whose stories are beautifully told in the film, The Song Keepers.
Many of the women singers who attend Big Sing in the Desert are also members of this choir.
Morris is creative director of the annual Desert Song Festival in Alice Springs.