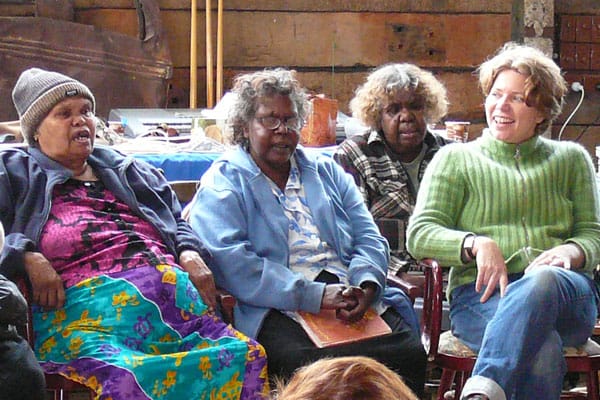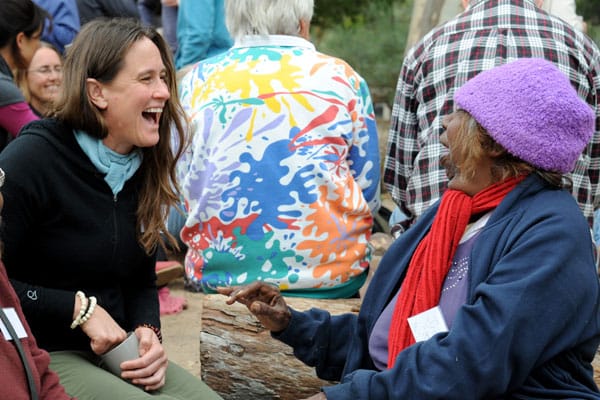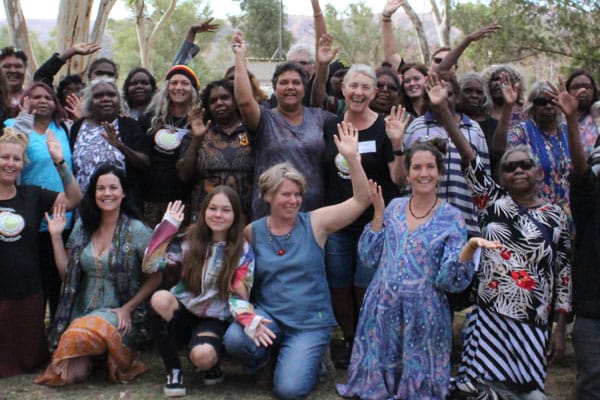 "Singing brings people together."
Aunty Janice Paulson, Forster NSW
Big Sing Community is all about connection and from singing, sitting and talking together at Big Sing gatherings many important and lasting connections have been made.
Out of these connections wonderful things have emerged. Enduring friendships, co-operative projects and even new choirs have been born.
This page is currently under construction – more Connections content will follow soon.

Taking Dhurga language to the Desert
An initiative to take Djinama Yilaga Choir to the Desertsong Festival in Alice Springs in September 2023
Walawani njindiwan – Welcome everyone …
In April 2023, four members of Djinama Yilaga choir travelled to the Big Sing in the Desert outside Alice Springs, where we met with the Central Australian Aboriginal Women's Choir.
They've been invited to return and perform at Desertsong Festival in September, 2023 and are excited to build on those beautiful connections we made.
This time we want to take the whole choir with us, including our kids, to show them what the culture is – to us and to other people. We want to share with the younger members of the choir a vision of what Djinama Yilaga can be for them. It's our hope that they will lead the choir one day, and we want them to see it can be a bigger story for them.
I'm reaching out to our local community, and beyond, to help us achieve this dream.
The funds we raise through our campaign will be used to pay for the travel and accommodation for seventeen singers and support crew of Djinama Yilaga to travel to Desertsong Festival in Alice Springs.
The Djinama Yilaga Choir is an intergenerational choir, established in 2019 and led by renowned Walbunga/Ngarigo artist, Cheryl Davison. Djinama Yilaga write and perform songs in Dhurga language.
Dhurga was spoken and understood by many within the 13 tribes of the Yuin Nation on the Far South Coast NSW. It was spoken by the Walbunga people of the Broulee region and the Brindja Yuin people of Moruya.
Recently, Djinama Yilaga Choir and their songs have been featured in the award winning films Bagan Barra Barra MIrriwarr – Land Sea Sky.
The year of 2023 has brought new opportunities and audiences for the group, with performances at Parliament House, Canberra, the Royal Botanic Gardens, Sydney, and a tour of Poland as part of the Ngarigo Polish Exchange.